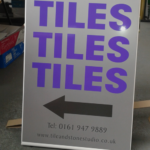 With help from the leading sign makers in Stockport, you can take your business to the next level. At Gatley Signs, we're passionate about creating unique, innovative and super functional signage. Whatever the size and nature of your business, we have the right sign for you.  Our team of highly talented, creative and dedicated professionals can ensure that your brand remains visible, memorable and one-of-a-kind. Grabbing eyeballs is only part of the story. Our signs offer durability and long-lasting effectiveness that will certainly make your business stand out from the crowd. Signs are a traditional, but tried and tested method that consistently gives results. They offer the first impression of your company, products and services.
Studies show that nearly half of all new business for small and medium companies comes from great signage. In Stockport, sign makers understand the value of signs in a business's marketing strategy. If signs were removed, a majority of marketers report that their firms could lose a large chunk of sales. Badly designed and poorly maintained signs can give a negative impression of your business. There are many crucial aspects to consider when you choose the right sign making service. Before you talk to the sign maker, it's a smart move to do your own homework ahead of time. You must identify the purpose of the sign and know exactly what you want it to achieve. If you try to cut costs by using poor quality materials, it reduces the durability of your sign. We ensure that we work only with premium quality materials, at affordable rates.
Your marketing team can coordinate with our sign makers in Stockport. Signs are used to inform, guide, advertise, persuade and educate people. We work with clients to ensure timely and efficient deployment of signs. Some signs are meant to be operational during daytime or night-time hours. You may also want both internal and external signs, or signs in different locations. Some may be required for special events and promotions. Talk to us at Gatley Signs if you're looking for a professional sign maker. We are delighted to partner you in your journey towards success.