I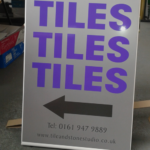 f you're wondering where you can find professional sign writing in Stockport, we are available to assist you with your requirements. We not only provide signage, we offer a range of different printing services. These include t-shirts to vehicle wraps. Thus, if you need your business advertised, we will create a sign for you. The art of sign writing has a long history. It makes perfect sense that it is a highly useful method of advertising. A creative and eye-catching sign will catch your potential customers' attention. This then invites them to purchase your products. We use techniques to quickly and efficiently print your company name, logo and slogan on a wide variety of different objects. This can maximise your exposure and help to increase revenue.
For business owners in Stockport, sign writing is an essential part of your marketing strategy. The sign above your business' entrance ay gives your potential customers their first impression . Using effective signage design is as essential as the sign itself.  We have been in the sign writing industry for over 17 years and our expertise has helped businesses all over the North East reach a wider audience. If you have a company vehicle, we can emblazon your logo onto it with a wrap or magnetic sign so you can advertise your services everywhere you go. The best way to get the right signage for your business is to choose a professional sign writer. Let us assist.
Choose a professional for your sign writing in Stockport. We can assist with a huge range of different types of signage options. Our most popular, and one we are known for is vehicle graphics. Our window graphic decals are a great option for the glass frontage of your shop or agency as well as an eye-catching way to grab customers' attention. However, our sign writing experts are available to help you with the signage you want for your business. If you are interested in any of our signage options, contact Gatley Signs. For a bold and brilliant sign for your business, choose an expert to assist.